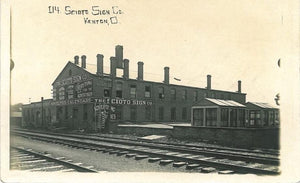 Celebrating 125 Years in Business
As the end of 2022 comes to a close, we can't help but feel grateful for another successful year in business. This year marked a huge anniversary for Scioto Sign Company, Inc. Our family owned and operated company takes great pride in our work, so to be able to say we've been manufacturing signs for 125 years, we feel honored.
Scioto Sign Company, Inc. started out manufacturing advertising specialties such as paper signs, cardboard signs, muslin banners, aprons and other novelties in 1897. When Arnold Lange purchased the business he moved the plant to Vine Street in Kenton Ohio (pictured above). Since then the company has moved to its current location on US 68 North in Kenton. Scioto signs has been passed down generation to generation and is now owned and operated by Shawn (Lange) & Shawn Moore.
Over the past 125 years, the production process has changed. We started out creating advertising graphics. Then company expanded to screen printing metal signs. We would order custom dies to die cut our signs into special shapes. Our emboss plates were made from jute and cut by hand. Today most of our work is digitally printed, cut on a laser, and stamped with CNC routed emboss plates.
The one thing that will never change however is the quality of our products. We want to thank every single customer that helped us get to where we are today. Thank you to all the present and past employees that dedicated years of hard work to our company. We're hopeful in the future the business will be passed down to another generation of family, the production process will evolve again, and our product quality will stay the same as it has for the past 125 years.
Merry Christmas & Happy New Year! -The Moore Family
---