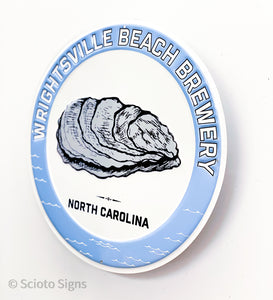 Scioto Sign's Pricing
The two biggest factors that effect the price our your metal sign is (1) the size & (2) the quantity.
Sizes:
We buy our metal in bulk and it is usually cut to 4' X 4' , 6' X 4' or 8' X 4' sheets. So we like choose sizes for the signs that fit well and have good yields. However we can quote any size a customer requests. So the larger the sign the higher the price for material. 
Material:
 The most popular material we use is .024 White Coated Aluminum. This is also the most cost efficient material to choose for your project. However some projects require a stiffer and sturdier piece of material. We offer a variety of thicknesses, steel or aluminum, and we also have natural (silver look) aluminum. The thicker the material the more expensive the project will be. 
Shapes:
We push all of our production through our laser machines. This way we don't have to charge anything extra for custom shapes. We sued to have to die out the signs with custom made dies but with our improved system we can cut costs. There are special circumstances where we have to die cut the signs but we try to avoid that if we can. 
Emboss: 
We charge  a one time fee to create the emboss plate. This fee is only charged on your first order for that specific sign design. We even let customers use a common emboss plate that matches multiple designs in order to save money. 
Printing:
Majority of our work is pushed through our digital printers. However, we do offer screen printing and digital printing for all our jobs. Screen printing involves more labor, materials, and set up so for lower quantity jobs it can be more expensive. We do not screen print 4 color process jobs anymore, those are strictly digital print. We have the ability to digitally print 5' X 10' signs and screen print even larger signs. Certain inks like metallic, neon, or very vibrant colors are only screen printed because we can't recreate those with digital inks. 
Quantity: 
For most of our orders we like to keep an order minimum of 25 signs. There are special circumstances where we will allow 1 piece orders. We also like to keep the quantities in 25 piece increments however, we can completely customize your quantity range. There is no maximum sign quantity you can order, the more the merrier. 
---